Joined

Nov 22, 2011
Messages

23
Reaction score

0
Points

1
Website
hello everyone,

I am sure many member here are already familiar with fiverr.

If you liked fiverr, you will love Fivers World, if you didn't like him, then you will probably like what I am about to share with u
Fivers World: is the one of the fastest growing marketplaces with a unique features that are not available on any other website.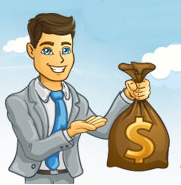 ​
Here is some of Features Our website Fivers World offer that doesn't exist somewhere else :



For Seller :

- Passive Sales: In Fivers World you can sell your eBooks & Digital content without bother login to the website each time you make a sale, the website will complete the sale for you (by using Instant Access Gig option and either add download link or upload a file).

- Featured Gigs : got tired trying to get your gig to main page? on Fivers World for only $7 you can be featured for at least 30 days.

- Tips System : Buyers can Tip you when you do an outstanding job through tipping system.

- Withdraw options : Sick of PayPal ? You can withdraw money with three options : PayPal / AlertPay / MoneyBookers

- Referral System : In Fivers World, inviting friends pays off
, 5% commission life time from people referred to our website.

-Top Rated Sellers : If you become Top Rated Sellers, You will have 1 gig featured as long as you are Top Rated Seller, free advertising on Microsoft Ad Center + SEO your Gigs (In addition, more benefits to top rated sellers)

- Each Gig Revised before approval : even if you made a written mistake, or you first language is not English, we will make sure to correct it for you.

- Traffic : Fivers World is one of the fastest growing freelancers marketplaces, we maintain high traffic on the website. We are now stand as number top 4 sites in this market.

- Notifications : emails & in account for New messages, sales, updates, tips.

For Buyers :

- Instant Access: If you bought any item with Instant Access label on it, you will receive the item immediately even at 4:00 am.

- Fixed Price : Our prices range various : $5, $10, $15, $20, and $25 (find services that you can't find anywhere else)

- Tip your Sellers : You don't have to spend $5 each time to tip a seller, on Fivers World you can tip any amount between $1 - $5 and make a stronger relation with seller.

- Payment options : PayPal, AlertPay, Credit Cards

- Deposit System : Tired going back and forth to PayPal or AlertPay ?! will don't waste your time, on Fivers World, you can deposit any amount between $10 - $100 and enjoy shopping & Tipping.

- Customer Service : Any email is responded to it in only 8 hours..

- Protection : you got 3 days since the time that seller submit the service to complaint, any issue goes in first 3 days, we will hold the payment until we make everyone happy. This beside each gig is revised before posting.

- Less Spammers: We have a powerful filters to catch spammers and ban them for life.

- High quality sellers : sellers who fail in delivery and fail to communicate, loose their privilege as their gigs get deleted after 2 warnings as well as their account get suspended. We only allow high quality sellers.

- Notification : Through the buy & sell operation, you will get notification email and notification on your account to make things simpler to browse.