Joined

Sep 8, 2010
Messages

61
Reaction score

0
Points

6
Age

32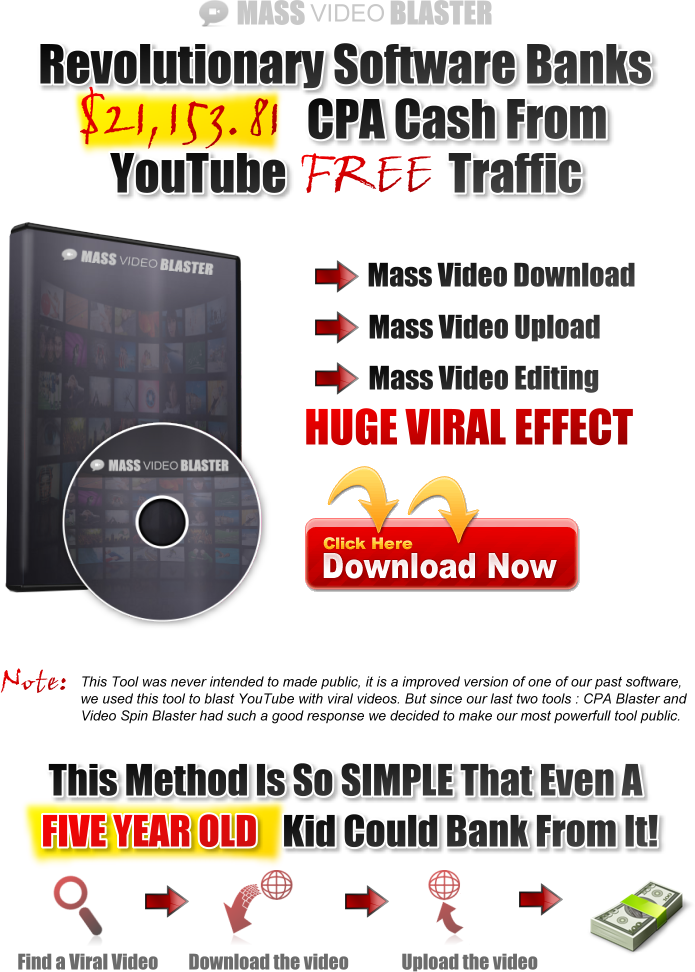 ​
It's that simple! You will let your competitors do all the hard work: finding a good niche , creating a quality video and you will benefit from their work with the click of two buttons!
From 1.000 Views to 200.000 in One Month​
Let's be frank right from the start, it's not easy to get a ton of views on just any old video. That's the bad news. The good news is that good and fresh videos can easily get as many views as 200k/month.
Every day there are hundreds of new Viral Videos on the web, just imagine how much money you could make if you owned such videos ( check out our earning screenshot... that much).
Ok, enough dreaming for you , let's take some action and help you earn at least as much as we are.
What if you could easily download all the best performing videos, re-tag them, SEO optimize the descriptions, fine tune everything about them and then easily upload them across multiple accounts?
It's split testing on steroids!!! Watch for best performers, download them, blast them across multiple accounts!!
This method is not new, but it is the method we are using to boost our cpa account. How?! There are so many ways to earn cash when you are viral 24 hours each day , you just redirect your traffic from one
money making method to another.
Mass Video Blaster can do hours worth of work...
Literally in MINUTES!
​
What used to take 3-4 hours creating and submitting videos now takes minutes…that's right,MINUTES
Mass Video Blaster let you download videos from YouTube, whether it's about the hottest video game to hit the market, some sweet a** music video, the newest diet or weight loss product on the market, latest
movie trailers , dosen't matter.
You can mass download videos, watermark them with your website, and re-upload all of them within a matter of minutes…

Take a look at this Example
​
Back in December I found on YouTube a crazy video with an awesome kid that loves reggae music, maybe you know it
and I decided to upload it on one of my YouTube accounts so i can show it to my friends,
guess what 2 days later I was viral
, and I didn't even tried to optimize it, I just download it with an early version of Mass Video Blaster and uploaded it to my account. After one week I started
redirecting my traffic from that videos to other videos and direct linking offers. It was really great to see that you can get viral without having any real competition, without spamming, videos removed and
other headaches.

In case you didn't understand the power of what I just told you and to make things even clearer
Click On The Video Bellow To See
Mass Video Blaster In Action
---
​
Purchase Mass Video Blaster Now For Only
27$/Month
*After the first month you will be charged with 47$ for every month.

​
I strongly urge you to hit that Download button about to get your copy now! As copies ARE LIMITED...
However, if you do feel unsure about anything, or a question you had was not answered in the video above, then please, keep reading...​
Let's make a recap of what MVB allows you to do:
Download Videos from Youtube , Vimeo and Metacafe based on keywords, users, or manually
Download Videos in HD format from YouTube
Add videos from local hard drives
Add Your Own Watermark on the downloaded video
Cut seconds from the start of any video
Makes each video unique , so you can upload the same video as many times as you want without having to worry about the duplicate filter
Change your titles, tags, and descriptions on the fly
Mass upload all your videos in ONE CLICK!
Auto re-upload all the videos that are removed
Add annotations to YouTube videos
And much more…
SNIPER Method vs MASS Method​
Sniper Method:
Focus on finding a very viral video and try to outrank your competition for one keyword.
Mass Method:
Download all the competition videos , add the keyword one more time in the description and re-upload it.
You decide what works best for you....
Do you know get it why we are calling this Mass Video Blaster?​
Take a look at this video to see what's with all the MASS Buzz
----
MVB Works!! And it works for just about ANYONE...
Here's just some of the testimonials of those people who got the original...​
A Must Have Tool For Any YouTube Marketer
Hi Everyone,

My name SpK and I'm the creator of YouToobMe. Two weeks ago Vlad and Stoica showed me for the first time Mass Video Blaster, and asked me to give it a test.

I was amazed to see that the system is so simple and with Mass Video Blaster is almost on autopilot. In less then one hour I had 4 videos ranked on top position of YouTube. The next day I was stunned when I

saw that 3 videos had over 2000 views and the other one had 600 views and I worked only 5 minutes to achieve that.

Mass Video Blaster is a must have for anyone in the YouTube marketing niche!
SpK - Developer of YouToobMe & ViewIt
I needed only 30 minutes to see the results
I must say that when I first got my beta version of Mass Video Blaster , I was a bit sceptical about this method, but since I knew that CPA Blaster worked pretty good for me I said W%# let's see what is all

the buzz about.

I've started searching and uploading some videos with MVB, I was still searching for other videos to upload when it hit me , the first video I've uploaded was already grabbing views. The next day my

Facebook fan page got over 1000 fans from that video!

I must say this one of the best tools I ever tried!

Highly Recommended!
David aka Rico Steel - YouTube and Facebook Marketer
This sounds AWESOME!!!
But how much is it going to cost me?​
The price... right now you have a one time chance to grab this powerful software for low, low price! The "insiders" in the CPA Community that we have shown this think e are crazy for selling it this low! We
have been told that we should be charging at least $100... but you can get your copy for a limited time, for ...
27$/Month
*After the first month you will be charged with 47$ for every month.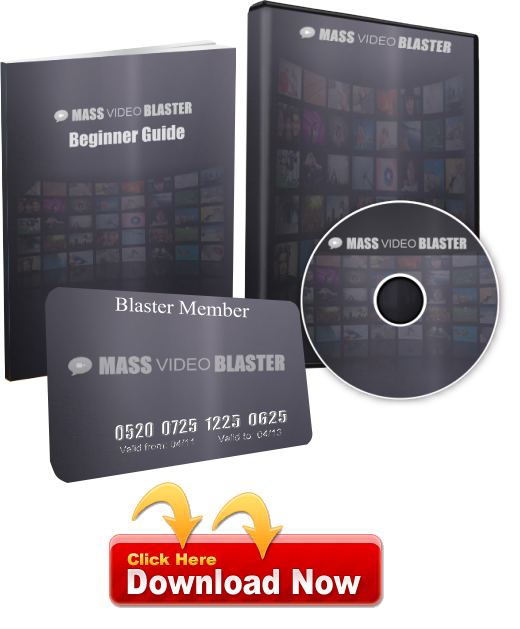 Mass Video Blaster DOES NOT require:
​
FinancialInvestment our methods are free all the way up to making 10.832$ each month
TIME Investment you will work no more then 15 minutes each day ,after you will get some experience
Experience the interface and method is easy to use, no complex knowledge needed
Purchase Mass Video Blaster Now For Only
27$/Month
*After the first month you will be charged with 47$ for every month.

You can also purchase the lifetime version of MVB with the small price of:
167$ LIFETIME
Click Here To Purchase Lifetime Version
​
To your great success,
Vlad M.
*
No PS's
, Mate... You've got everything you need to either
WIN
... or Whine. You Decide- just
do it Soon!

Disclaimers:
This method has worked great for me and the testing team, but I make no claims or promises as to how much money you will or could make. You are hereby informed to read and put these methods into action at

your own risks.
This site and the products and services offered on this site are not associated, affiliated, endorsed, or sponsored by Youtube, nor have they been reviewed tested or certified by Youtube.

Click Here For Earning Disclaimer